Dec 10, 2018
5 Local Reston Events to Get In the Holiday Spirit
From Thanksgiving to New Years, the holidays come and go so fast that it's important to make the most of the holiday season. Luckily, living at Aperture means that your Reston apartments are within walking distance to local events and DC is only a minute away from car or metro. With so much at your fingertips, it would be a waste to miss out on all the festive fun going on. We've done our research and picked out the top 5 holiday events that guarantee you'll have the best holiday season yet! With so many quintessential festivities going on less than 30 minutes away, you won't have to travel far to get into the holiday spirit. Find your favorite or try them all!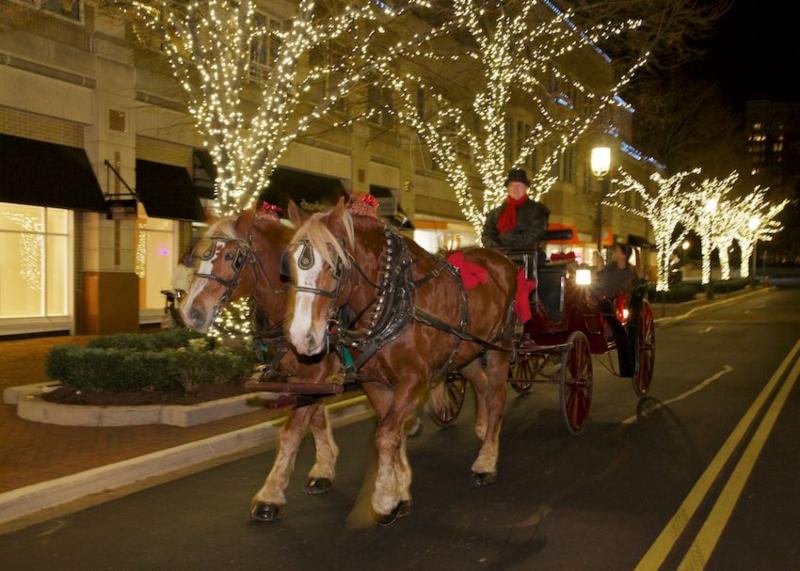 Photo credit: Leadershipfairfax.org

Horse-Drawn Carriage Ride for a Cause: Grab the kids and head to the Reston Town Center, just minutes from Aperture apartments, for a ride in a horse drawn carriage. To really relish the experience, go at night to enjoy all the twinkling lights, as you sit cozy under a warm blanket and listen to the soft clink of the horses' hooves on the pavement. On your way, stop at local Weird Brothers Coffee for a hot chocolate or freshly made cup of joe to keep you warm on the ride. Each ride only costs you a $5 donation, and all proceeds go to local charities in Reston that need a little extra help this holiday season. Not only do you get an inexpensive night of holiday joy, but you get to provide the same for community members in need. If horses aren't your thing, enjoy mini train rides, from 12-4PM, every Sunday until December 16th. Carriage rides are offered every Saturday through December 22nd, from 4-9PM, and pickup is in front of the Clyde's Restaurant at 11905 Market Street, Reston, VA 20190.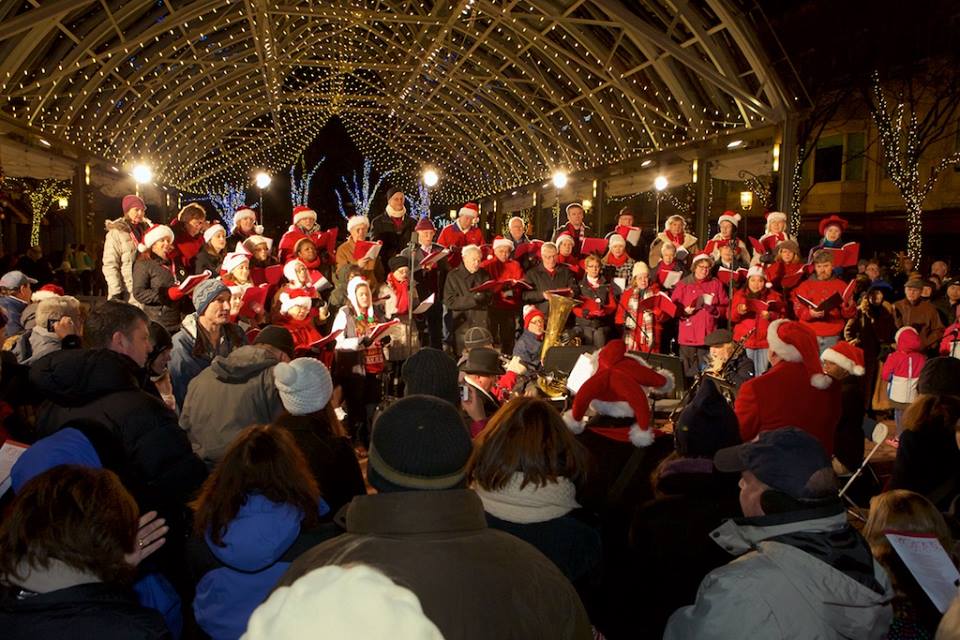 Photo credit: Restontowncenter.com

Holiday Harmonies at the Promenade: Living at Aperture comes with endless amenities and perks, and one of the best parts about renting an apartment in Reston is the almost instant access all of Reston's events. This holiday season, take a break from the neon light shows, and take in some beautiful caroling at the Holiday Harmonies show at the Promenade. Whether you know someone performing, want to support local artists in the area, or just love a good Christmas carol (who doesn't at this time of year?), you're sure to find captivating holiday music and a perfect December night out. Each week, there are multiple performances, so make sure to check the schedule to find the one you'll most enjoy. From dancers, to music ensembles and even soloists, there is a great selection of styles for all ages aimed to bring the holiday spirit to as many Reston locals as possible.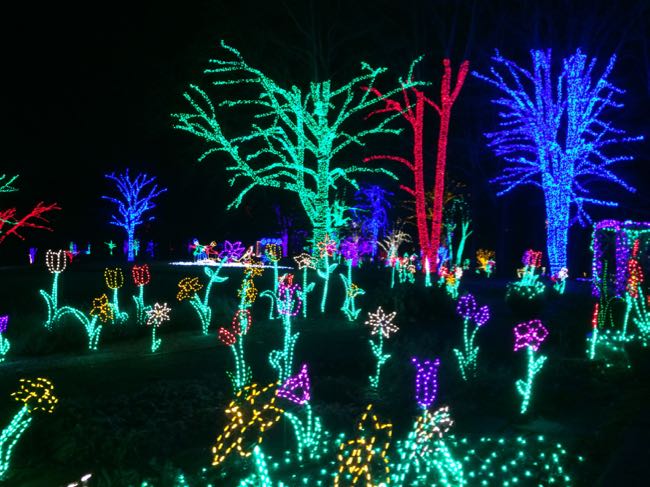 Photo credit: Funinfairfaxva.com

Meadowlark's Winter Walk of Lights: Located in nearby Vienna, VA, the Meadowlark Botanical Gardens are hosting their 6th annual Winter Walk of Lights. Each year, Meadowlark completely transforms over half a mile of scenic land into a winter wonderland lights display. Patrons can enjoy a leisurely walk through, taking in the holiday spirit, enjoying numerous photo opportunities, and making a stop in the Snowflake Shoppe to find gifts for friends and family. Make sure to bundle up, and maybe even visit the S'More Snacks Shop for a hot cup of cider or cocoa to keep you warm while you walk. It can take over three months of hard work and dedication to get the Meadowlark light show ready for the public, so it is definitely worth making the time for. Tickets may sell out, so buy them online to guarantee a spot for you and your family. Advanced tickets are $8 for children, $14 for adults, and the lights will be open every single day from 5:30pm-10pm. You read that right, every single day including Christmas and New Year's Day, so if you're looking for ways to keep the family occupied after Christmas dinner, this may be the perfect option for you. Visit Meadowlark's Winter Walk of Lights at 9750 Meadowlark Gardens Ct., Vienna, VA 22182.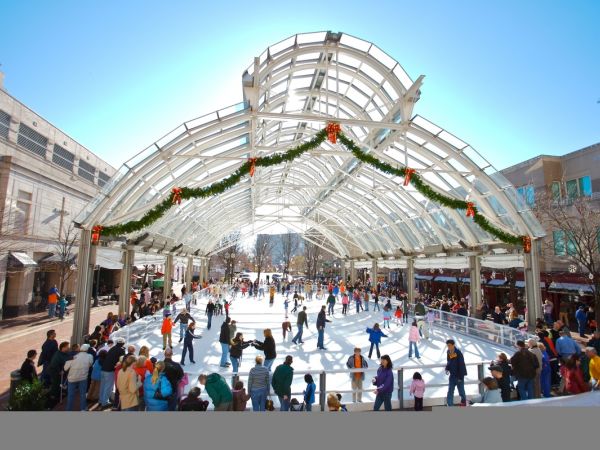 Photo credit: Patch.com

Ice Skating at Reston Town Center: Ice Skating has always been a holiday tradition, for children and adults alike. Reston Town Center completely transforms their iconic Pavilion from November to March and offers affordable ice skating every single day. Whether you've skated your whole life or aren't sure how to lace up your skates, the Pavilion offers a spacious rink able to accommodate tons of excited locals at all different levels of experience. They even put on various specialty skate nights, including Rock the Rink every Friday from 8pm-10pm, or Cartoon Skate every Saturday from 11am-1pm, perfect for a girl's night out or a family adventure, respectively. Ice skating is $10 for adults, $9 for kids, with $6 figure skate or hockey skate rentals. Grab your puffiest winter coat, some of your favorite people, a thick pair of socks, and head to 1818 Discovery Street, Reston, VA 20190.


Photo credit: Fairfaxva.gov

Holiday Market: Traditional shopping locations, like the mall and the local shopping centers, become nothing short of chaotic at this time of year. However, holiday shopping must get done somehow, and we've found the perfect solution to the problem. Spend your day exploring the charm of the Fairfax City Holiday Market at Old Town Square. For the first three weekends in December, the Holiday Market will be in full swing: Fridays from 5-8PM; Saturdays from 12-6PM; and Sundays from 12-4PM. Check out a plethora of crafts and handmade gifts, enjoy homemade treats for yourself, and enjoy the live music and stunning light displays of downtown. Ultimately, if you can only squeeze in one Reston holiday activity, this may be your best bet. The Holiday Market incorporates just about every holiday tradition and gives you the opportunity to shop local.

We often look forward to the thrills of the holidays all year long, and once they finally arrive, it can feel like they're gone in an instant. With Reston offering so many ways to get into the holiday spirit without traveling far, there's no reason not to make this your favorite holiday season yet. Who knows, some of these holiday excursions may be so fun that they'll become traditions by next year. The holidays are in full swing in Reston, and we couldn't be happier to wish you and your loved ones a very happy holiday season!
BACK