Nov 15, 2018
Aperture Wins 2018 Best Interior Design Apartment Community in DC & Baltimore
Nestled within Reston Station in Virginia lies luxury living like you've never seen before. From the conversations sparked by our exterior art sculpture to the collaborations inspired by our many gathering spaces, Aperture redefines "living" art. That's why we've been awarded a Delta Associates "Award for Excellence" in the category of Best Washington/Baltimore Interior Design Apartment Community.

The Delta Associates' 22nd Annual Multifamily Market Overview & Awards for Excellence recognizes apartment and condominium communities from Washington, Suburban Maryland, Virginia, and Baltimore. Awards are based on independent factors, such as lease-up or sales pace for an apartment or condo building.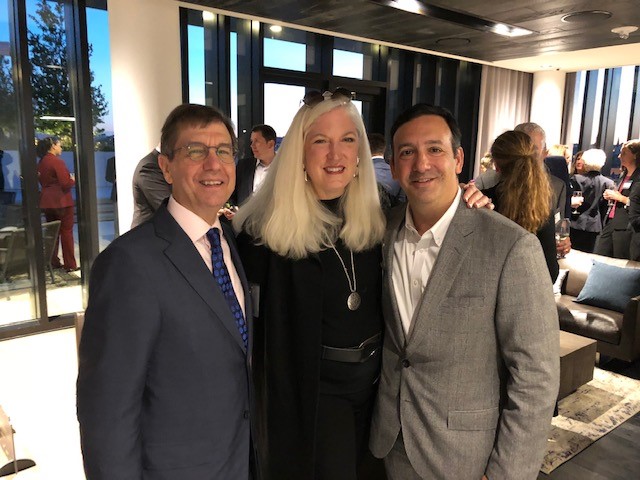 Pictured left to right: Charles Veatch, joint venture developer of Aperture; Rebecca Jones, founder and principal of RD Jones & Associates and interior designer of Aperture; and Steve Strazzella, president of Bozzuto Development Company, all attended the awards ceremony on Wednesday, October 17th on the rooftop of 880 P in Washington, D.C.

If you're looking to join the Reston community, look no further than Aperture apartments. With a home that's as inviting as it is inspiring, and with a plethora of amenities, there's nothing you won't find here.

Upon arrival, you'll be greeted by our custom Zachary Oxman sculpture, a statement piece for our property. As you enter the building, your world becomes surrounded by detailed light fixtures, inspiring murals, and a picturesque lobby.

Before heading up our wraparound staircase, take a seat and crack open a good book in our library, with floor-to-ceiling bookcases! After heading up the staircase, you'll enter the luxurious club room, featuring fireplaces, ample seating, a billiards lounge, and a full-sized demonstration kitchen. Did we mention it's the perfect spot to have a relaxing evening with friends and neighbors?

The walls of Aperture showcase the work of the world's most prominent nature photographers, with scenes of beauty and wonder. Aperture is more than a home, it's a living work of art. Schedule a tour and illuminate your life!

A full list of award winners can be viewed here.
BACK