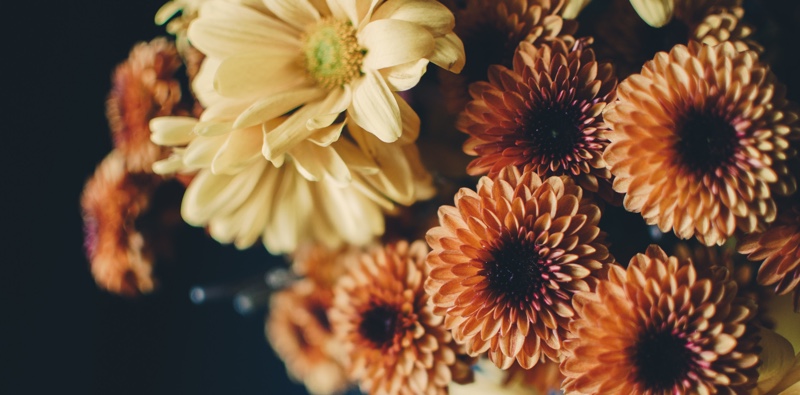 Sep 21, 2018
Fall Floral Arrangements to Add Some Autumn Cheer to Your Space
It's that time of year again: the changing of the seasons. With summer days becoming distantly fond memories and autumn taking centerstage, it's time to switch up your interior design theme as well. From fruit arrangements to fall centerpieces, the possibilities are endless when it comes to decorating your apartment at Aperture. Follow these tips for inspiration on how to best decorate your apartment for fall.
Fruit Arrangements
If you're looking for an arrangement that you can keep throughout the season and cherish for years to come, invest in a high-quality faux arrangement. Choose one that includes a mix of apples, pears and flowers to truly capture the fall vibes. Not only will this beautify your living space, but you can appreciate its charm and allure all season long.
Centerpieces
Centerpieces are classic for fall holidays like Thanksgiving, but we challenge you to bring the luxury of the centerpiece to your dining table all autumn long. Set the backdrop of delicious home-cooked meals and dinner parties with the centerpiece of your dreams. Look for one with elements such as candles, lanterns, pumpkins and faux leaves.
Earthy Arrangements
Earthy arrangements have become quite popular for weddings in the past couple of years, but we suggest you make them an everyday affair by implementing them into your home décor. Visit your local florist and request eucalyptus, garden rose, black magic rose, hydrangea and grevillea. This beautiful combination provides a lovely mix of colors, textures and scents.
Classic Autumn Arrangements
When it comes to fall décor, you can always keep it classic. Embrace autumn colors like oranges, reds and yellows. You can create a lovely fall arrangement with a mix of sunflowers, dahlias, mums, cockscomb, and callas lilies. Whatever you choose to include, personalize it and make it your own! How will you decorate your apartment for fall at Aperture? We hope the tips above help to make your space cozier and more beautiful. Ready to call Aperture home?
Contact us
today for more information on life at Aperture or to
schedule a tour
.
BACK