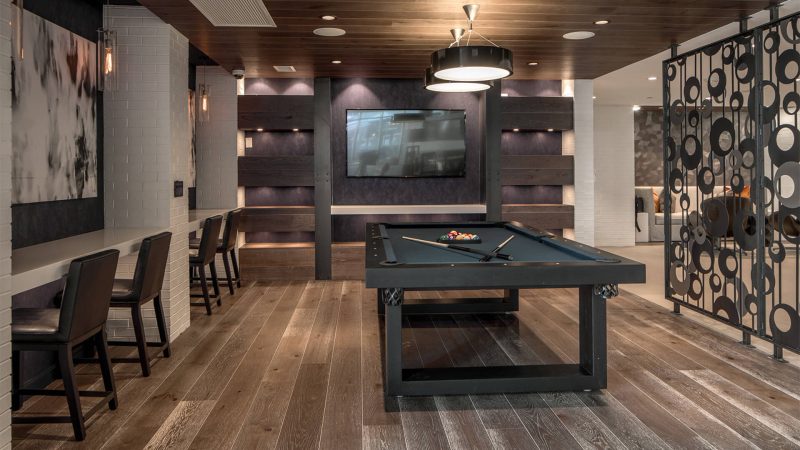 Jun 20, 2018
Stay Cool With These Indoor Amenities at Aperture
Looking for a break from the hot Virginia sun this summer? At Aperture, there's so many great indoor amenities that you can enjoy away from the heat. From an indoor yoga studio to a game room, you can rest assured that there's plenty to keep you occupied and cool at Aperture. Here's how you can stay cool this summer with indoor amenities at Aperture.
Get Fit
Skip your morning run on the W&OD Trail in favor of an indoor workout. Stop in at Aperture's state-of-the-art fitness center. Plenty of weights and fitness machines ensure that you can get your cardio in and build some muscle without worrying about getting sunburned. If you're looking for a lighter workout, head over to the indoor yoga space where you can move through a vinyasa flow or meditate in a refreshing atmosphere.
Play Games
Just because it's too hot to go out, doesn't mean you can't have fun inside. Aperture's game room makes it easy to channel your inner child and have a day of play. Show your competitive side off with a game of pool with your crew then cool off with a drink at the entertainment bar.
Throw a Party
Throw the summer party of your dreams without the bugs, sweat and tears (hello, allergy season). Relax with friends around a good meal in the clubroom. Wind the party down by checking out the beautiful creations in the art gallery.
How will you spend a day indoors at Aperture? We hope you'll take advantage of all that Aperture's amenities have to offer during the summer months. Stay cool!
---
Ready to call Aperture home?
Contact us
today for more information on life at Aperture or to
schedule a tour
.
BACK